5-Star-Rated Orthodontic Offices For Braces In Charles Town, WV & Martinsburg, WV
At RS Orthodontics, our 5-star-rated orthodontic offices for braces in Charles Town, WV and Martinsburg, WV offer many types of braces for children, teens and adults. Whether you're a teenager or an adult, it's never too late to get your greatest smile! We offer a variety of braces designed to get the best results for you. We take into account your dental history, how quickly you want results, and your budget. Crooked teeth, crowded teeth, misaligned teeth, and jaw problems can all be addressed with braces during the adolescent years – or for adults! Today's kids see braces as a positive thing – a rite of passage. Many choose to accent their braces with brightly colored elastics to help them show off their personality along with their braces! Other kids opt for less-visible options, such as self-ligating braces.
Different types of braces and orthodontics (for both kids and adults) are designed to make the time in treatment fit your life, as well as your busy work or school schedules. Dr. Sebbahi and the team at RS Orthodontics provide the following types of braces in Charles Town, WV and Martinsburg, WV:
Metal Braces: The Most Common Type Of Braces
Traditional metal braces are the most common type of braces and are more comfortable today than ever before. Made of high-grade stainless steel, metal braces straighten your teeth using metal brackets and archwires. (Archwires are wires across your teeth that Dr. Sebbahi adjusts during your checkup appointments to create your perfect smile.) With metal braces, you have the option of adding colored elastics (rubber bands) for a more colorful and unique smile!
Clear Braces: The More Discreet Type Of Braces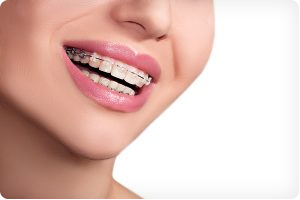 Also known as ceramic braces, clear braces are similar to traditional metal braces, but thanks to their tooth-colored ceramic material, they blend in with your teeth for a more discreet treatment. Clear braces are the same size and shape as metal braces, but with their tooth-colored wires and brackets, they are far less noticeable. They work more quickly than clear aligners like Invisalign, because they use an archwire. While ceramic braces are less visually prominent, they do require careful attention to oral hygiene to avoid food or bacteria getting trapped in the brackets.
Self-Ligating Braces: Experience Fewer Office Visits & More Comfortable Experience

Self-ligating braces are different than traditional metal braces, because they do not require the use of elastics. Forestadent self-ligating braces are a German innovation, crafted in Germany for greater precision than other self-ligating braces. Thanks to this innovation, you need fewer appointments to adjust archwires, and less friction is placed on each tooth. Self-ligating braces are available in metal or clear ceramic brackets. They're the same size as metal braces, but they use a specialized clip in place of elastics to help the archwire guide your teeth into place. This clip reduces the amount of pressure placed on a tooth and requires fewer adjustments than traditional style braces.
Incognito Braces: Braces Hidden Behind Your Teeth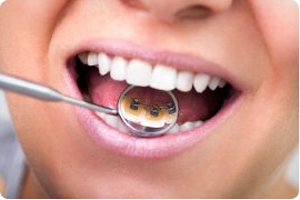 Incognito braces are a type of lingual braces that are hidden behind the teeth. Because these braces attach to the backs of your teeth, they remain completely invisible when you smile. Incognito braces are 100% customized to match the shape of your teeth; the metal appliances are created uniquely for you. The brackets are cast in gold rather than stainless steel and are formed to the shape of your mouth, using wires that are custom-fit for you. Incognito Braces fit your lifestyle and perfectly conform to your teeth, thus optimizing comfort and efficiency.
With Dr. Sebbahi's commitment to ongoing learning and innovative treatment options, we are sure RS Orthodontics has the ideal treatment available for you or your loved one. To learn more, call 304.725.0126 or click here for your complimentary RS Ortho Smile Assessment!
Come experience RS Orthodontics! You will see we offer innovative and effective braces and orthodontics to patients in Charles Town, Martinsburg, Harpers Ferry, Kearneysville, Inwood, Berkeley Springs, Falling Waters, WV, Williamsports, MD, Berryville, and Purceville, VA – and we do it with a smile!
Over 2000 Smiles Transformed At RS Orthodontics — Serving Charles Town, Martinsburg, Harpers Ferry, Inwood, Kearneysville, Berkeley Springs, Falling Waters WV, Williamsports, MD, Berryville & Purceville, VA